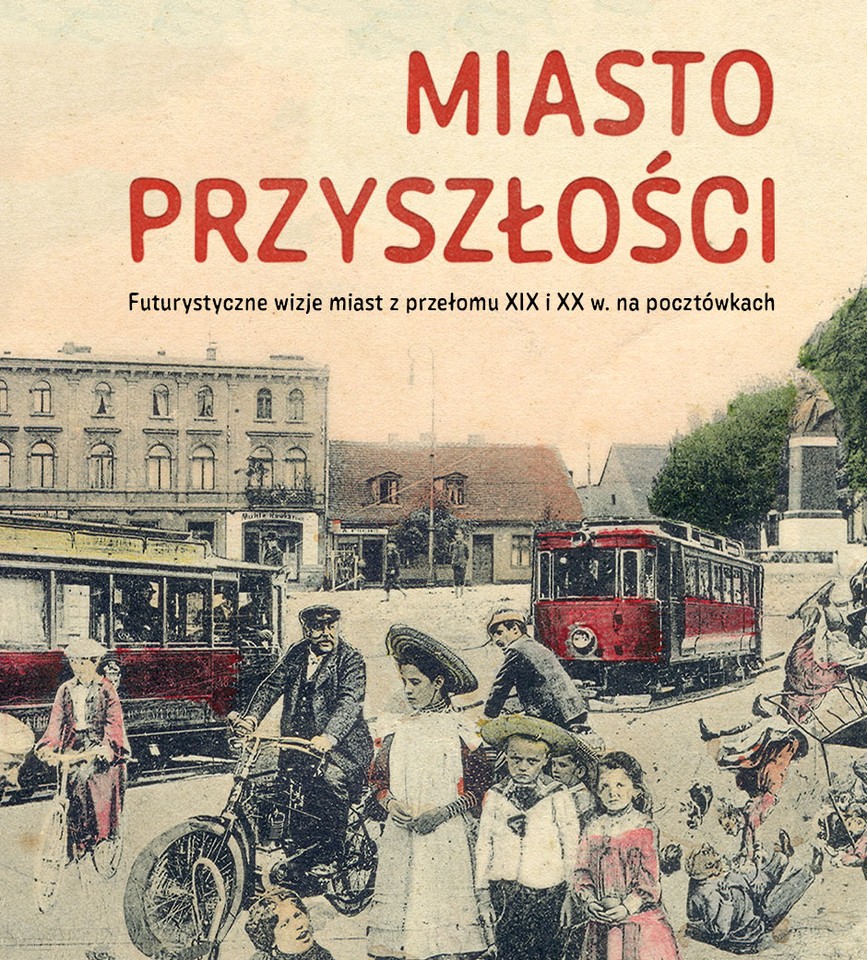 MIASTO PRZYSZŁOŚCI. Futurystyczne wizje miast z przełomu XIX i XX w. na pocztówkach
Type

Visual Arts

Place

Hol Wielki

Hour

g. 10 - 21

Date

from 11.07.2023
to 28.08.2023
Czy dziś jeszcze ktoś wysyła pocztówki? Czy zdjęcia z wakacji przesyłane sobie na Messengerze lub wrzucane na 24-godzinną relację na Instagramie zupełnie wyparły tę tradycję? Na pewno mają przynajmniej jedną wspólną cechę z pocztówkami – dzięki obu mediom można zaakcentować najważniejszy punkt w swojej podróży lub polecić miejsce, w którym czuliśmy się wyjątkowo, a przez to podzielić się swoim sposobem myślenia. W wakacyjnym klimacie przywołujemy jeszcze odleglejsze czasy i przyglądamy się kartom pocztowym sprzed ponad stu lat. Zobaczcie jakie treści wówczas krążyły po świecie za pośrednictwem poczty. 
Zainteresowanie przyszłością i związanym z nią rozwojem technicznym od zawsze inspirowało i ciekawiło ludzkość. Futurystyczne wizje czy technologie często odzwierciedlano na przełomie XIX i XX wieku na pocztówkach. Gwałtowna industrializacja i odkrycia naukowe zmieniały świat w zadziwiającym tempie, a to z kolei inspirowało i pobudzało do wymyślania coraz ciekawszych wersji przyszłości. Jednym z najpopularniejszych przykładów wyobrażeń futurystycznych był "automobil przyszłości" czy też "maszyny latające" często przedstawiane jako potężne urządzenia ze skrzydłami, śmigłami, balonami.
Współcześnie – pocztówkowe kolaże są dość zabawną ilustracją wyobrażeń o przyszłości, ale również stanowią spore wyzwanie interpretacyjne.
Prezentowane na wystawie materiały pochodzą ze zbiorów Biblioteki Uniwersyteckiej w Poznaniu.
opracowanie merytoryczne: Bartosz Wiśniewski
aranżacja wystawy: Magdalena Tomczewska
opracowanie graficzne: Antonina Kieliszewska
---
Grafika przedstawia kadr ze starej pocztówki wykonanej w kolażowej technice. Na górze umieszczono duży czerwony napis "MIASTO PRZYSZŁOŚCI" i mniejszy czarny "Futurystyczne wizje miast z przełomu XIX i XX w. na pocztówkach"