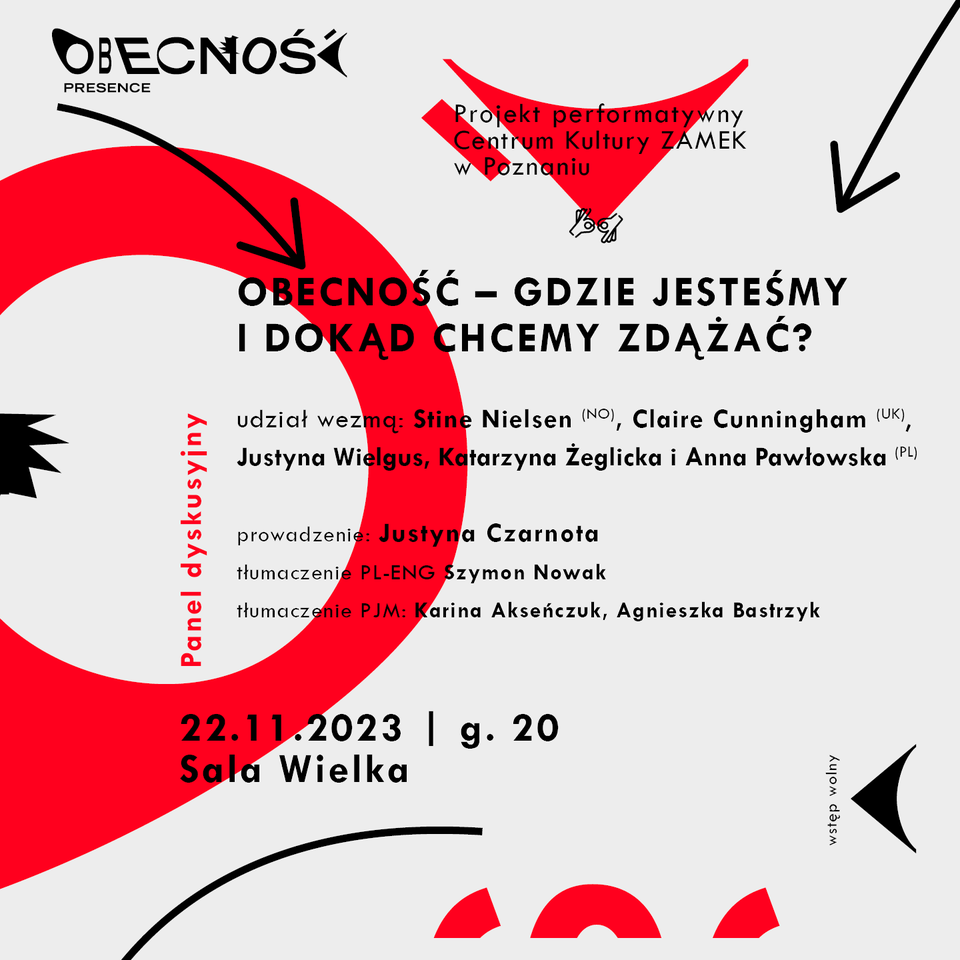 The panel discussion entitled Presence - where are we and where do we want to go? recapitulates the two-year theatre project at CK ZAMEK, featuring: Stine Nielsen (NO), Claire Cunningham (UK), Justyna Wielgus, Katarzyna Żeglicka and Anna Pawłowska (PL);
moderated by Justyna Czarnota;
PL-EN interpreter: Szymon Nowak, Polish Sign Language Intepreter: Karina Akseńczuk, Agnieszka Bastrzyk
On Wednesday evening, November 22nd, 2023, we would like you to join us in the Grand Hall of the ZAMEK Culture Centre for two events: a performance of Intermezzo by Theatre Klucz, directed and choreographed by Janusz Orlik, and a discussion panel recapitulating two years of artistic and educational activities carried out by ZAMEK in collaboration with its partners as part of the Presence project. 
The panel will be held immediately after the performance (around 8 pm). It will be an opportunity to look at the changes which the theatre of persons with disabilities has witnessed in Poland during that period. Together with the invited panellists (Stine Nielsen, director of CODA Oslo International Dance Festival in Norway, Claire Cunningham, choreographer, performer, professor from Great Britain, Justyna Wielgus from Theatre 21, Katarzyna Żeglicka, genderqueer and crip activist and independent performer, as well as Anna Pawłowska from Zamek Culture Centre), we will attempt to define the challenges that theatre institutions face as they work towards inclusiveness and look at which international practices may be inspiring for all of us. We are also going to consider what artists dream of and envisage a world in which persons with disabilities may realize their artistic visions and aspirations.
This discussion has been organised as part of the t performative arts programme "Presence", delivered by ZAMEK Culture Centre in Poznań in collaboration with CODA Oslo International Dance Festival and Teatr 21 of Warsaw, thanks to funding from the EEA and Norway Grants.
--
Graphic promoting "Presence" project.


PROJEKT OBECNOŚĆ / PRESENCE "Obecność - gdzie jesteśmy i dokąd chcemy zdążać?"
"OBECNOŚĆ" (PRESENCE) PROJECT BENEFITS FROM GRANTS IN THE AMOUNT OF EUR 290 000 FROM ICELAND, LIECHTENSTEIN AND NORWAY PROVIDED THROUGH THE EEA FUNDS. WORKING TOGETHER FOR A GREEN, COMPETITIVE AND INCLUSIVE EUROPE.