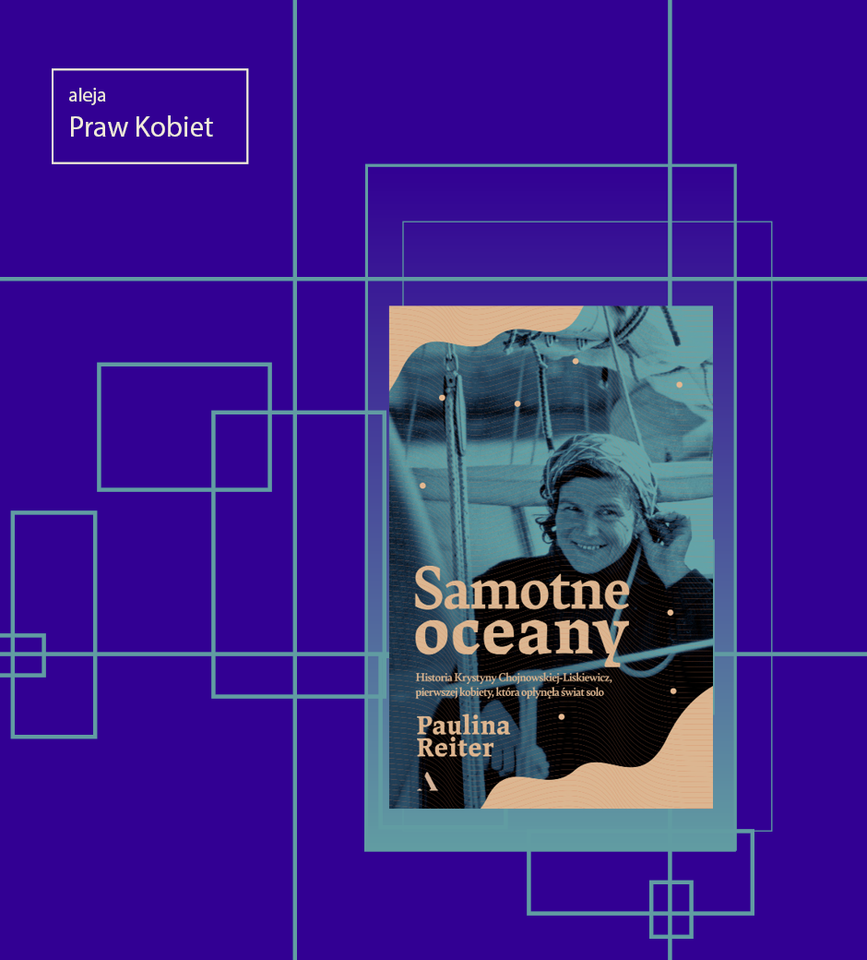 "Samotne oceany. Historia Krystyny Chojnowskiej-Liskiewicz, pierwszej kobiety, która opłynęła świat solo" 
moderacja: Agnieszka Maciejewska
Tłumaczenie na PJM.
Spotkanie transmitowane także na Facebooku CK ZAMEK i Zamek Czyta
Cykl spotkań pt. Aleja Praw Kobiet został zainicjowany w ubiegłym roku. Jego ideą było upamiętnienie kolejnej rocznicy uzyskania przez kobiety praw wyborczych oraz wpisanie się w program wydarzeń związanych z nazwaniem jednej z poznańskich ulic Aleją Praw Kobiet. Wywalczone w 1918 roku prawa miały już wtedy szersze znaczenie: dotyczyły nie tylko udziału w wyborach, ale także umożliwienia dostępu do nauki, do pracy, do samostanowienia i decydowania o sobie w sprawach światopoglądowych, do uczestniczenia w pełni w życiu społecznym, gospodarczym i kulturalnym czy wreszcie – prawa do mówienia własnym głosem.
×××
Jest 1976 rok. Krystyna Chojnowska-Liskiewicz wchodzi na pokład małego jachtu "Mazurek". Wypływa w samotny rejs dookoła świata. Ma szansę być pierwszą kobietą w historii, która tego dokona. Mało kto wierzy, że jej się uda. Przepełnia ją lęk, ale powtarza sobie: "Dam radę".
Paulina Reiter, redaktorka "Wysokich Obcasów", w swojej fascynującej reporterskiej biografii opowiada o Pani Kapitan, jej życiu i morskich przygodach. Na czele z tą najważniejszą – 30 tysiącami mil morskich samotności i prób dogadania się z żywiołem. "Samotne oceany" to nie tylko historia o odwadze, o żeglarstwie bez GPSa i o kobietach na morzu, ale także o miłości. Paulina Reiter szuka też odpowiedzi na pytanie, jak to się stało, że tak niewiele osób w Polsce słyszało o Krystynie Chojnowskiej–Liskiewicz i przywraca pamięć o zapomnianym wyczynie Pani Kapitan. [opis wydawcy]
PAULINA REITER
– autorka i redaktorka związana z "Wysokimi Obcasami", gdzie opowiada historie kobiet, pisze o prawach kobiet, podejmuje kwestie feministyczne.
AGNIESZKA MACIEJEWSKA
– urzędniczka, dziennikarka, żeglarka, harcerka, przewodniczka po Poznaniu. Przez 23 lata, przy mikrofonie Polskiego Radia w Poznaniu, zajmowała się codziennością miasta. Zawsze blisko kultury, ale też grup słabszych społecznie, w środku inicjatyw ważnych dla ludzi. Teraz w Urzędzie Miasta Poznania "walczy" o jego dostępność dla mieszkańców mających dodatkowe potrzeby. Usprawnia też komunikację wewnątrz różnych grup. Obserwuje, słucha, rozmawia, opowiada – najchętniej o kinie, książkach i relacjach. Odpoczywa ciężko pracując, najchętniej na zimnym morzu pod żaglami.
----------------------------
Na granatowym tle okładka książki 
"Samotne oceany. Historia Krystyny Chojnowskiej-Liskiewicz, pierwszej kobiety, która opłynęła świat solo"
 . Na niej kobieta, na tle żagli, ubrana w czarny płaszcz. Na głowie ma chustkę. Na okładce dominują kolory błękitny i beżowy.