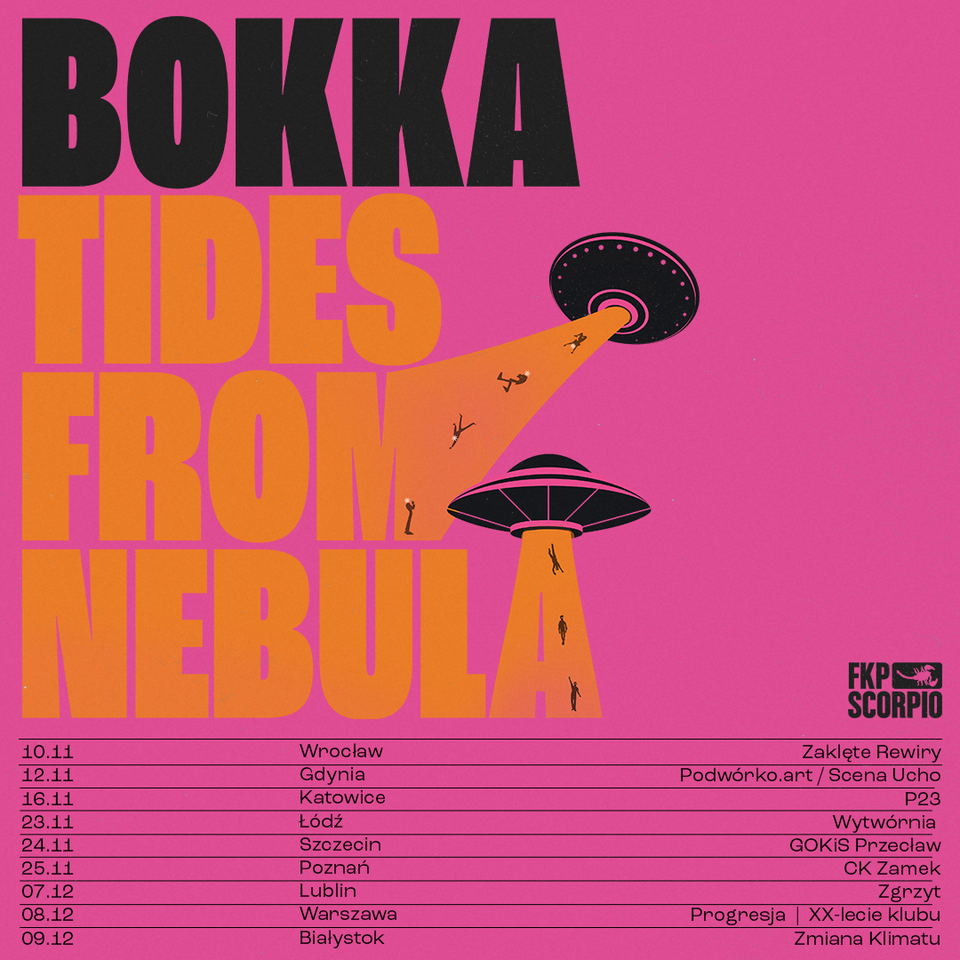 BOKKA i Tides From Nebula ruszają we wspólną trasę!

Wspaniała niespodzianka czeka na fanów muzyki alternatywnej! Zespół BOKKA, który obchodzi dziesięciolecie działalności, oraz Tides From Nebula, świętujący piętnaście lat na scenie, ogłaszają swoją wspólną trasę koncertową.

To muzyczne wydarzenie zaskoczy i porwie, obiecując niezwykłe wrażenia. W sumie dziewięć koncertów w dziewięciu miastach zapowiada prawdziwy kosmiczny spektakl. Ten muzyczny tandem to połączenie dwóch niezwykle kreatywnych i wyjątkowych formacji.

Nie przegap tego kosmicznego widowiska, które zapowiada się jako jedno z najważniejszych wydarzeń muzycznych tego roku!
BOKKA
 od 10 lat zaskakuje swoim nieszablonowym podejściem do wizerunku, 
żywiołowymi koncertami, woltami stylistycznymi - od nostalgicznego debiutu 
zauważonego przez Pitchfork, poprzez energetyczny album "Don't Kiss And Tell", 
kosmiczny "Life On Planet B", na apokaliptycznym "Blood Moon" kończąc. 
Pozostając anonimowi od 10 lat działają na własnych, unikalnych zasadach. 
Mają na koncie 4 świetnie przyjęte albumy, 3 nominacje do Fryderyków, a ich 
twórczość polecało wiele zagranicznych mediów. Niebanalne podejście do tworzenia 
wizerunku i muzyki, wykorzystywanie nietuzinkowego, często składającego się z 
przypadkowych przedmiotów instrumentarium, szybko 
stało się znakiem rozpoznawczym BOKKI. Potencjał grupy błyskawicznie 
dostrzeżono poza granicami kraju m.in. na The Great Escape, Colours of Ostrava, 
Reeperbahn Eurosonic festival, a także w klubach w Brukseli, Pradze czy 
Budapeszcie. 
Grupa jest również ceniona za oprawę wizualną swojej muzyki. Klip do utworu Walk 
on A Wire uzyskał Grand Prix na Polish Music Video Awards, wyróżnienie na Berlin 
Music Video Awards, a także jako jedyny z Polski zyskał nominację na festiwalu 
Camerimage pośród artystów takich jak Lykke Li, Harry Styles czy Rammstein. 
Na rok 2023 przypadają 10 urodziny zespołu, które BOKKA świętuje zapowiadanym 
na jesień albumem BOKKA HITS 10.
Od 2008 roku 
Tides From Nebula
 pisze historie dźwiękami pochodzącymi ze 
światów rocka, prog rocka i post rocka pisze warszawska Tides From Nebula. Przez 
lata za pisanie i odgrywanie tych historii odpowiadali Adam Waleszyński (gitara), 
Maciej Karbowski (gitara, instrumenty klawiszowe), Przemek Węgłowski (gitara 
basowa) i Tomasz Stołowski (perkusja). Od 2019 roku w kapeli nie ma Adama i 
funkcjonuje ona jako trio. Jeśli podczas słuchania muzyki TFN myślicie o 
kosmicznych bezkresach albo pięknych pejzażach z morzami i oceanami w tle, 
skojarzenia te są jak najbardziej na miejscu, bo muzyków warszawskiej kapeli to 
między innymi interesuje. Zespół miał okazję koncertować za granicą, a w Polsce 
pracować z samym Zbigniewem Preisnerem, który produkował drugi album 
"Earthshine". Wydana w 2019 roku płyta "From Voodoo To Zen" spodobała się 
bardzo, a na liście OLIS dotarła aż do miejsca trzeciego. Jak widać, dźwiękowym film 
tworzony przez Tides From Nebula ma wyjątkowo pokaźną widownię.
19:00 drzwi
20:00 TFN
21:45 BOKKA

AUDIODESKRYPCJA GRAFIKI
Grafika na różowym tle przedstawia statek UFO. Czarny napis Bokka oraz pomarańczowy Tides From Nebula. 

SPRAWDŹ INNE KONCERTY: